Threadolet fittings is a kind of self-reinforced branch connection pipe fitting. A threadolet is used for low-pressure 90-degree pipe branches. It has a female threaded connection, and the branched pipe is screwed on the fitting. This makes the 90-degree branch a full-size or reduced straight pipe.
A full-size threadolet offers the same diameter branch as the run pipe. For example, the diameter of a full-size threadolet is 3"x3". While reducing threadolet is when branch size is less than run pipe size. For example, 3"x2" threadolet.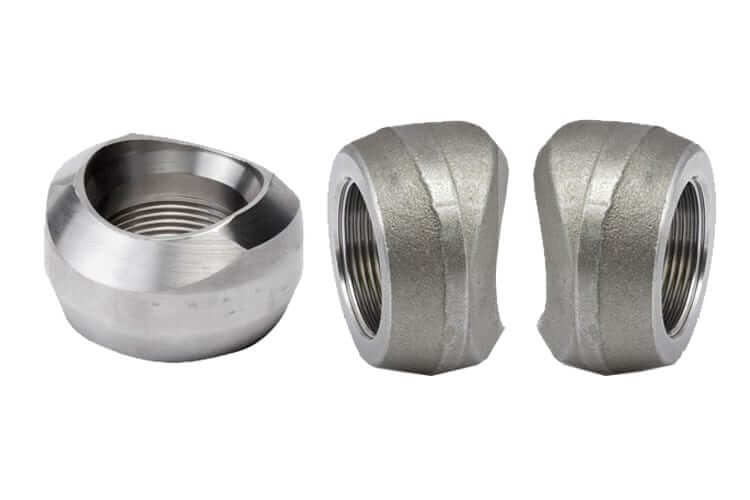 Thredolets belong to the "threaded fittings" family and are available in classes 3000# and 6000#. Threadolets are used for smaller pipe sizes and low-pressure applications.
2. Thread Types of Threadolet Fittings
NPT Threadolet
NPT stands for National Pipe Tapered threads (also for ANSI/ASME B1.20.1 Pipe Threads). It is a U.S. standard for measuring tapered threads on threaded pipes and fittings. It has 60-degree thread angle.
BSP Threadolet
BSP refers to British Standard Pipe, it is screw threads for interconnection and sealing pipes and fittings. BSPP and BSPT are two common types of BSP threads.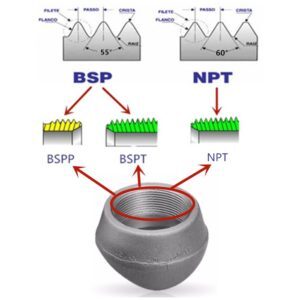 3. Weldolet VS Threadolet VS Sockolet
The main differences are the connection surface:
Weldolet ends in plain or beveled to weld on the branch pipe;
Sockolet ends in socket type that to insert branch pipe;
Threadolet is inserted branch pipe and with screw connection.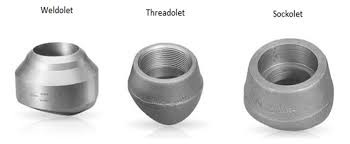 Meantime they have different advantages:
Weldolet: Compatible with higher pressure and simple connection, cost lower. Thickness in SCH STD, SCH XS, SCH 160 to SCH XXS.
Sockolet: Compatible with higher pressure but the cost is higher. Pressure ratings in 3000#, 6000#.
Threadolet: Easy to replace and maintain, the cost is higher. Pressure ratings in 3000#, 6000#.
4. Threadolet Specification
Branch Fittings-Threadolet-olet series

size

1/8"-4"

Pressure class

3000/6000/9000LBS

Dimension Standards

ASME 16.11 Threadolets, MSS SP-97 Threadolets, BS 3799 Threadolets

Types

Weldolet, Sockolet, Threadolet, Nipolet, Latrolet, Elbolet, Sweepolet, Insert Weldolet, Coupolet, Brazolet, Flexolet Butt Weld, Flexolet Socket Weld, Flexolet Threaded, Nipoflange & Flangolet.
5. Threadolet Fittings Dimensions Charts
Pressure: 3000LB, 6000LB
Size: from (1/4-36)″ to (5-36)
Standard: MSS-SP-97
Threads: NPT, NPSC, SAE, BSPT, BSPP
Material: Carbon Steel, Stainless Steel, Alloy Steel
Finish: Galvanized or Black, PE, and Pickled
Packing: Carton box and wooden box.
6. Threadolet Fittings Materials
Carbon Steel Threadolets
ASTM A 105 Threadolets
A694 Threadolets
Gr. F42 Threadolets
Gr. F52 Threadolets
Gr. F56 Threadolets
Gr. F60 Threadolets
Gr. F65 Threadolets
Gr. F70 Threadolets
Low Temperature Carbon Steel Threadolets
A350 LF3 Threadolets
A350 LF2 Threadolets
Alloy Steel Threadolets
ASTM / ASME A / SA 182 F1 Threadolets
ASTM / ASME A / SA 182 F5 Threadolets
ASTM / ASME A / SA 182 F9 Threadolets
ASTM / ASME A / SA 182 F11 Threadolets
ASTM / ASME A / SA 182 F22 Threadolets
ASTM / ASME A / SA 182 F91 Threadolets
Stainless Steel Threadolets
ASTM A 182 F – 304 Threadolets
ASTM A 182 F – 304H Threadolets
ASTM A 182 F – 304L Threadolets
ASTM A 182 F – 316 Threadolets
ASTM A 182 F – 316H Threadolets
ASTM A 182 F – 316L Threadolets
ASTM A 182 F – 316Ti Threadolets
ASTM A 182 F – 309 Threadolets
ASTM A 182 F – 310 Threadolets
ASTM A 182 F – 317L Threadolets
ASTM A 182 F – 321 Threadolets
ASTM A 182 F – 347 Threadolets
ASTM A 182 F – 904L Threadolets
Duplex Steel Threadolets and Super Duplex Steel Threadolets
ASTM/ ASME A/SA A 182 UNS – F44 Threadolets
ASTM/ ASME A/SA A 182 UNS – F45 Threadolets
ASTM/ ASME A/SA A 182 UNS – F51 Threadolets
ASTM/ ASME A/SA A 182 UNS – F53 Threadolets
ASTM/ ASME A/SA A 182 UNS – F55 Threadolets
ASTM/ ASME A/SA A 182 UNS – F60 Threadolets
ASTM/ ASME A/SA A 182 UNS – F61 Threadolets

Check our latest products