Steel pipe elbow is a key parts in a piping system for to change the fluid flow direction. Pipe Elbows are installed between two lengths of pipe or tubing to allow a change of direction, usually at a 90 degree or 45 degree angle, though 22.5 degree elbows are also made.
Steel Pipe Elbows could be classified from radius, direction angles, end connections and materials.
Steel Pipe Elbow is available in various radius for a smooth change in direction which are expressed in terms of pipe nominal size expressed in inches.
Long radius elbows (Radius = 1.5D): used most frequently where there is a need to keep the frictional fluid pressure loss down to a minimum, there is ample space and volume to allow for a wider turn and generate less pressure drop.
Short radius elbows (Radius = 1.0D): to be used only in locations where space does not permit the use of long radius elbows and there is a need to reduce the cost of elbows. In jacketed piping, the short radius elbow is used for the core pipe.
(Here D is nominal pipe size in inches.)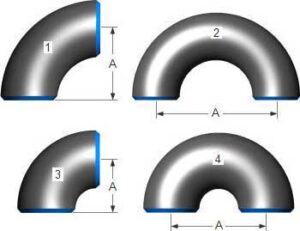 90 Degree Elbow – where the change in direction required is 90°
90 Degree steel Pipe Elbow, also called "90 bend" or "quarter bend". As a joint between two pipes, the 90 degree elbows are also used as railing ends or corners on a level installation.
It is the common degree in all the pipeline systems and is used most in all different degrees of elbows. Long radius 90-degree elbow, Short radius 90-degree elbow.
45 Degree Elbow – where a change in direction required is 45°
45 Degree steel pipe elbows are almost the same as 90 degree steel pipe elbow which is mentioned above. 45 degree elbow is the second most common use after 90 degree elbow.
Compared to 90 degree elbow, 45 degree elbow produces less friction, and with lower pressure.
180 Degree Elbow – where a change in direction required is 180°
Its application is limited to minimal deposition and low turbulence systems.
     According to the processing technology, steel pipe elbow is divided into three categories:
Butt weld Elbow

Socket weld Elbow
Threaded / Screwed Elbow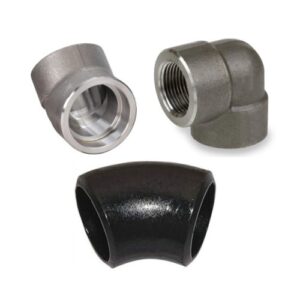 Butt weld Steel Pipe Elbow
Steel butt weld elbow is a formed by hot forming. It connect the steel pipe or other pipe fittings by butt welding process. According to the technical process, there are two types that seamless and welded elbow.
Supply Range
Size: NPS 1/2 to 48 / DN15 to 1200
Thickness: Sch 10S, 20, 40, STD, XS, 80, 160 and XXS.
Socket Weld Steel Pipe Elbow
Socket weld elbow is also welded to the pipe and fittings end. Unlike the butt weld elbow, the socket weld elbow has a trapezoidal area at the end. Take a pipe insert into a trapezoidal area of the elbow, and then welding, that is called socket weld elbow.
Socket Weld elbows are mainly used for small pipe diameters (Small Bore Piping) whose nominal diameter is NPS 4 or smaller. There are two angles that socket weld 90 degree elbow and socket weld 45 degree elbow.
Supply Range
Size: NPS 1/8 to NPS 4 or DN 6 to DN100
Pressure: 3000LB, 6000LB, 9000LB.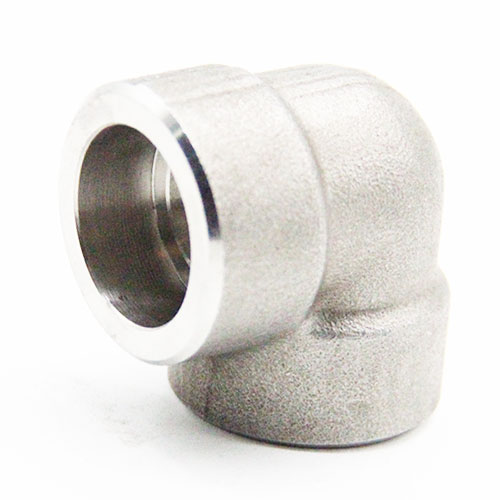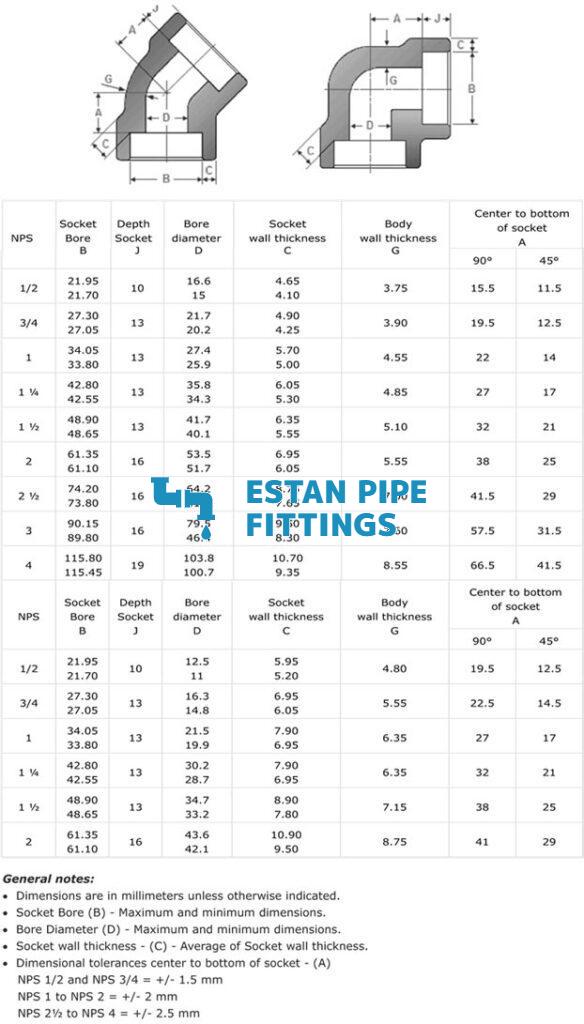 Threaded Steel Pipe Elbow
The shape of the threaded elbow is similar to the SW elbow, except that the inner surface of the trapezoidal area has been machined into thread. It connects the steel pipes or fittings by screw, the common thread type is NPT, BSPP, and BSPT. They also have types that threaded 90 degree elbow and threaded 45 degree elbow.
Supply Range
Size: NPS 1/8 to NPS 4 or DN 6 to DN100
Pressure: 2000LB, 3000LB, 6000LB
4. Material & Grades for Steel Pipe Elbow
ASTM A105, A350 LF2, LF3, A694 F52, F60, F65, F70
ASTM A234 WPB, A860 WPHY42, 52, 60, 65, 70, A420 WPL 3 / 6 / 9
Stainless Steel Pipe Elbow
ASTM A403 WP304/304L/304H, WP316/316L, WP310, WP317, WP321, WP347
ASTM A182 F304/304L/304H, F316/316L, F310, F317, F321, F309, F347, F904L
ASTM A182 F1, F5, F9, F11, F12, F22, F91
ASTM A234 WP1, WP5, WP9, WP11, WP12, WP22, WP91
ASTM A182 F51, F53, F55, F56,F57, A815 UNS S 31803, 32205, 32550, 32750, 32760.
5. Our Supply Range For Steel Pipe Elbow
Standard: ASTM A234, MSS SP-75, ASTM A403
Manufacturing Standard: ASME B16.9, DIN2615, JIS B2312
Types: 45 degree steel elbow, 90 degree steel pipe elbow, 180 degree elbow
Size Range: 1/2", 1", 2", 3", 4", 6", 8", 10", 12", 16", 20" to 48".
Thickness: SCH 10, SCH 40, SCH 80
Surface Coatings: Black Painted, Varnished, Epoxy Coated, Galvanized.
Standard: ASTM A105, ASTM A182
Manufacturing Standard: ASME B16.11
Dimensions: 1/2", 1", 1/2", 2" and up to 4"
Pressure Ratings: 2000#, 3000#, 6000#, 9000#
Check our latest products