Branch fittings are forged products with high strength and clear cost advantages over conventional pipe branching techniques. Weldolet is the most common of all branch connections and is welded onto the outlet pipe. It is designed to minimize stress concentrations and provide integral reinforcement. MSS-SP 97 is the key specification covering reinforced branch fittings. And the other common types are Elbolet, Threadolet, Latrolet, Sockolet, Nipolet, Sweepolet, etc.
Weldolets are the most popular type of branch fittings, belong to the buttweld fittings family, and are available in a wide range of dimensions. Weldolets are used to create a 90-degrees (reinforced) pipe branch. The shape of the Weldolet ensures little stress concentration on the branched pipe, providing an integral reinforcement.
Weldolet is a 90° branch connection, and the end is beveled to facilitate the process.
Weldolet's end is suited for the butt-welding connection and offers a variety of forged material grades, such as ASTM A105, A350, A182, etc.
Weldolets are available in Standard Weight, Extra Strong, and Double Extra Strong (Schedule 160).
It Comes in full size or reducing size (Full size is when you take a branch of the same size as run pipe size for example 3 inch to 3 inch. And reducing size is when branch size is less than run pipe size 3 inch to 1 inch)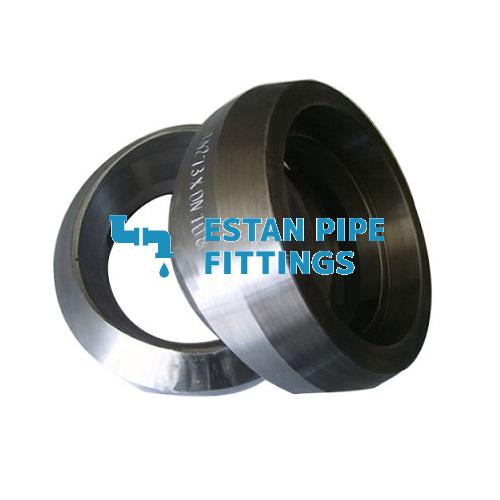 2. Weldolet Dimensions and Weight Chart
The end connection of the Sockolet is suitable for socket welding. The end of the Weldolet is designed for buttweld connections.
Sockolet belongs to the "socket fittings" family and is available in classes 3000#, 6000#, and 9000#. Weldolet belongs to "buttweld fittings", available in Thickness SCH STD, SCH XS, SCH 160 to SCH XXS.
Sockolets are used for lower pressure applications, and smaller pipe diameters, but the expense is higher. Weldolets are Compatible with higher pressure and simple connection, cost lower.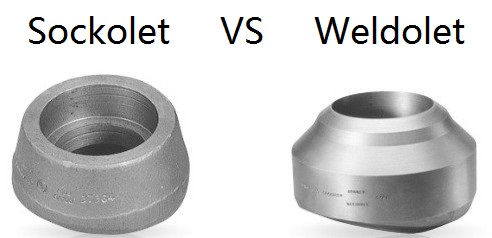 Weldolet | Butt Weld Outlet | Straight Bore | A105 |
Outlets allow for a branched pipe to extend at 90 degrees from the main run of a pipe.
A105 – The standard forged carbon steel piping components for ambient and high temperature/pressure systems
5. Stainless Steel Forged Fitting Weldolet
Dimension to MSS SP-97
Pressure Rating:
Reducing Way Type: Standard Weight / Extra Strong / Schedule 160 & Double Extra Strong
Straight Way Type: Standard & Extra Strong
Material Specification:
ASTM A182 (F304, F304L, F316, F316L, F304H, F316H, F317L, F321, etc.)
6. Other Common Used Sizes
36 – 4 X 1-1/4 IN. WELDOLET 3000 LB SOCKET WELD FORGED STEEL
36 – 6 X 1-1/2 IN. EXTRA HEAVY WELDOLET FORGED STEEL
2 IN. STANDARD WELDOLET FORGED STEEL
16 IN RUN X 6 IN BW STANDARD WT FORGED STEEL WELDOLET
Type: Forged Pipe Outlets/ Branch Fittings
Standard: MSS-SP-97
Run Pipe OD: 1/2", 1", 2", ", 4", 6", 8", 10", 12", 16", 20" to 48".
Branch Pipe OD: 1/2", 3/4", 1", 1 1/2", 2", 3", 4"
Pressure Rate: SCH STD, SCH XS, SCH 160, SCH XXS
Surface finishing: Carbon Steel Weldolet-Galvanized or Black, Stainless Steel Weldolet-Pickled, Low Alloy Steel Weldolet-Black.
8. How To Order Weldolet?
When you need to buy Elbolets and other branch fittings, please advise the following information:
Specify Weldolet Size (Branch & Header)
Header run pipe size (which is generally expressed as a range of possible sizes, for example, 36-22)
Branch pipe size (the NPS of the connecting pipe to the run pipe, for example, 6 inches)
Indicate Schedule/Pipe Wall
STD, XS, Sch 80, Sch 160/XXS, ect.
Select Material
Material Grade (example A105, A350 LF2, A182 F304)
Also, other types of branch fitting are available: Sockolet, Threadolet, Elbolet, Latrolet, Sweeploet, Insert Weldolet, Nipolet, coupolet etc.
Check our latest products