Flat face flange (FF)
Raised face flange (RF)
Ring joint flange (RTJ)
Male and female flange (M&F)
Large and small tongue-and-groove flange (T&G)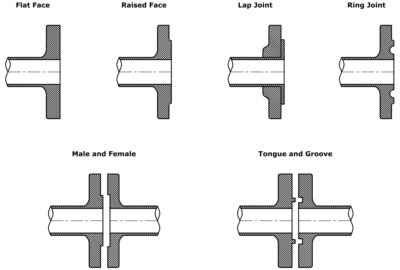 The Tongue and Groove faces of this flanges must be matched. One flange face has a raised ring (Tongue) machined onto the flange face while the mating flange has a matching depression (Groove) machined into it's face.
Tongue-and-groove facings are standardized in both large and small types. They differ from male-and-female in that the inside diameters of the tongue-and-groove do not extend into the flange base, thus retaining the gasket on its inner and outer diameter. These are commonly found on pump covers and Valve Bonnets.
Tongue-and-groove joints also have an advantage in that they are self-aligning and act as a reservoir for the adhesive. The scarf joint keeps the axis of loading in line with the joint and does not require a major machining operation.
General flange faces such as the RTJ, TandG and the FandM shall never be bolted together. The reason for this is that the contact surfaces do not match and there is no gasket that has one type on one side and another type on the other side.

With this type the flanges also must be matched. One flange face has an area that extends beyond the normal flange face (Male). The other flange or mating flange has a matching depression (Female) machined into it's face.
The female face is 3/16-inch deep, the male face is1/4-inch high, and both are smooth finished. The outer diameter of the female face acts to locate and retain the gasket. In principle 2 versions are available; the Small M&F Flanges and the Large M&F Flanges. Custom male and female facings are commonly found on the Heat Exchanger shell to channel and cover flanges.

Advantages and Disadvantages of T&G and M&F flange faces
Advantages
Better sealing properties, more precise location and exact compression af sealing material, utilization of other, more suitable sealing and spezialized sealing material (O-rings).

Disadvantages
Commercial availabillity and cost. Normal raised faced is far more common and ready available both regarding Valves, flanges and sealing material. Another complexity is that some rigid rules must be applied to the piping design. Do you order Valves to be female end both sides, or on one side maybe, in which case do you point all male ends in the flow direction, or what. Same applies to any flanged joint / vessel connection of course.
Check our latest products