Stainless Steel Butt Weld Fittings
A butt weld pipe fitting is designed to be welded on-site at its ends to connect pipes together and allow a change in direction or pipe diameter, or branching or ending. Stainless steel butt weld fittings are generally manufactured to ASTM A403 with dimensional tolerances in accordance with MSS SP-43 for schedules 5s and 10s, and with ANSI B16.9 for schedules heavier than 10s.
Stainless steel butt weld fittings are often seen for projects of PipeLines, Heat Exchangers, Reactors, and Tanks.
1. Stainless Steel Butt Weld Fittings Specification
| | |
| --- | --- |
| Standards : | ANSI/ASME B16.9, B16.28, MSS-SP-43, etc. |
| Materials : | A403 & ASME SA182 / SA403 |
| Grade : | 304, 304L, 304H, 309S, 309H, 310S, 310H, 316, 316TI, 316H, 316L, 316LN, 317, 317L, 321, 321H, 347, 347H, 904L |
| Type : | Seamless / Welded / Fabricated |
| Thickness : | Sch 5s, Sch 10s, Sch 40s, Sch 80s, Sch 160s, Sch XXS |
| Size : | 1/2″ to "8 |
| Types of Butt weld Fittings : | LR 90 Elbow, 45 Elbow, Equal Tee, SR 90 Elbow, Concentric Reducer, Eccentric Reducer, Reducing Tee, Pipe Cap, Stub Ends, etc. |
2. Type of Butt Weld Stainless Steel Fittings
Stainless Steel Butt Weld Pipe Fittings – Seamless / Welded Pipe Fittings
Available Size – Sizes 1/2″ – 48″
Stainless Steel Reducers
Stainless Steel Concentric Reducers
Stainless Steel Eccentric Reducers
Stainless Steel Tees
Stainless Steel Reducing Tees
Stainless Steel Lateral Tees
Stainless Steel Crosses
Stainless Steel Reducing Crosses
Stainless Steel End Caps
Stainless Steel Stub ends
Stainless Steel Pipe Bends
Stainless Steel 180°SR Return Bends
Stainless Steel 180° LR Return Bends
Stainless Steel Elbows
Stainless Steel Long Radius Elbow
Stainless Steel Short Radius Elbow
Stainless Steel 45°Elbows
Stainless Steel 90°Elbows
Stainless Steel 180°Elbows
Stainless Steel Reducing Elbow
Stainless Steel 3D Elbow
Stainless Steel 5D Elbow
The most applied stainless steel elbow is the 90°long radius and the 45°elbow, while the 90°short radius elbow is applied if there is too little space.
A 180° elbow is to change direction of flow through 180°. Both the LR and the SR types have a center to center dimension double the matching 90°elbows. 
Other degrees stainless steel elbows can be machined from a standard elbow. Longer radius type, the center to face dimension e.g. is three times the nominal size (3D), is available.
4. Stainless Steel Tees Equal and Reducing
Stainless steel equal tee (or straight tee) is used as the branch has the same diameter as the run-pipe. It is available for all common diameters.
Stainless steel reducing tee is used as the branch has a smaller diameter than the run pipe. it is not available for all common diameters.
As an example. a stainless steel reducing tee NPS 16 x 2 is probably not available by any supplier. It would also not economical to use a NPS 16 tee with a NPS 2 outlet; in such situations a Branch Fitting will be used or a Branch Connection will be made.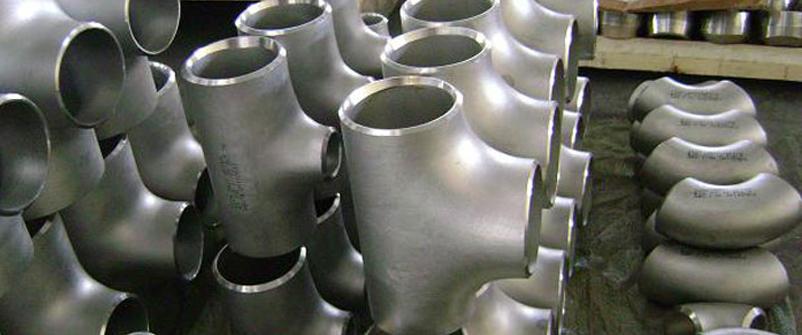 Stainless steel reducer is a kind of fitting that is used for reducing piping size. Concentric reducer is most commonly used and often eccentric reducer used in piping in about pump and pipe rack area.
Stainless Steel Eccentric/ Concentric Pipe Reducers :
Specification: ASTM A403, ANSI B16.9 & B16.28 JIS B2312, JIS B2313.
Material: type 304/304L , 316 / 316L , 310/310S , 317/317L, etc.
Thickness: 5S / 10S / 20S / 40S / 80S.
NP size: 1/2″ ~ 24″.
Stainless steel caps are usually used for protecting the end of the pipe and other fittings. There are different types, shapes, and sizes of piping fittings manufactured from different grades of stainless steel materials.

The Stainless Steel End Cap Dimensions usually range from ½ inches to 48 inches, custom sizes are available too.
Leading Manufacturer and Exporter of Stainless Steel Stub End such as Stainless Steel Stub Ends ASTM A403, Stainless Steel Stub End 304L, Stainless Steel Stub End 316L, Stainless Steel Stub End 317, Stainless Steel Stub End 317L, etc.
Custom stub end pipe fittings are the specialty of Estan Pipe Fittings. We manufacture to your specifications in stainless steel or carbon steel with ends preps including beveled, squared, grooved, flanged, and threaded.
8. Standards of Stainless Steel Butt weld Fittings
ASME/ANSI B16.9
ASME/ANSI B16.28
MSS SP-43
MSS SP-75
DIN/EN 10253 -3/4
ISO 5251
JIS B2311/2312/2313
GOST 17375/17376/17378/17379
PMI test to ensure the material quality
Dimension controlling during fabricating and finished
100% Visual and surface examination
Tensile test per heat
Intergranular Corrosion test on request
NDT test of PT, UT, RT
Other requirements from Clients.
Check our latest products