ASTM A105/ A105N Carbon Steel Flange
ASTM A105 (also known as ASME SA 105) covers seamless forged carbon steel piping components for use to manufacture like flange and forged fittings of small diameter. Forgings to this specification are limited to 10,000 lbs. ASTM A105 Flange is the most generally utilized carbon steel material grade which is used in pressure systems and works at high temperature.
A105 Flanges Material have high corrosion resistance, particularly to stress corrosion cracking
A105 Flanges have very little or no maintenance material
ASTM A105 flanges are suitable for harsh conditions.
1. A105 FLANGE SPECIFICATIONS
Specifications : ASTM A105 / ASME SA105, A105N
Dimensions : ANSI/ASME B16.5, B 16.47 Series A & B, B16.48, BS4504, BS 10, EN-1092, DIN, etc.
Standard : ANSI Flanges, ASME Flanges, BS Flanges, DIN Flanges, EN Flanges, etc.
Size : 1/2″ to 48″
Class / Pressure : 150#, 300#, 600#, 900#, 1500#, 2500#, PN6, PN10, PN16, PN25, PN40, PN64 etc.
Flange Face Type : Flate Face (FF), Raised Face (RF), Ring Type Joint (RTJ)
Coating/Surface Treatment: Yellow Transparent, Oil Black Paint, Anti-rust Paint, Cold and Hot Dip Galvanized, Zinc Plated.
1) ANSI B16.5, ASME B16.47 FLANGE
Size range: 1/2″ to 80″ DN15 to DN2000
Design: welding neck flange, slip on flange, blind flange, socket weld flange, threaded flange, lap-joint flange
Pressure: 150#, 300#, 600#,900#,1500#, 2500#
Wall thickness for welding neck flange: STD, SCH40, SCH80, SCH160. SCHXXS
2) EN1092-1 FLANGE
Size range: DN15 to DN2000
Design: type 01 plate flange, type 02 loose flange, type 05 blind flange, type 11 welding necking
Type 12 slip on flange, type 13 threaded flange
Pressure: PN6, PN10, PN16, PN25, PN40, PN64, PN100
3) DIN FLANGE
Size range: DN15 to DN2000
Design: slip on flange DIN2573,2576,2502,2503, 2543,2545
welding neck flange DIN2631, 2632,2633,2634,2635
blind flange DIN 2527 PN6, PN10, PN16, PN25, PN40
threaded flange DIN2565,2566,2567,2567
loose flange DIN 2641,2642,2656,2673
3. ASME A105 Flange Types
According to the connection way between the pipe and flange, the flange can be divided into the following five basic types:
4. A105 Flange VS A105N Flange
ASTM A105 and A105N flanges have the same raw materials, same steel grades, but different heat treatment requirement.
N means Normalization heat treatment, A105 flange haves no heat treatment requirement.
A105N have a better mechanical property and usually used in low temperature service.
5. Carbon Steel A105 Flanges Dimensions
6. ASTM A105 Carbon Steel Flange Surface Finish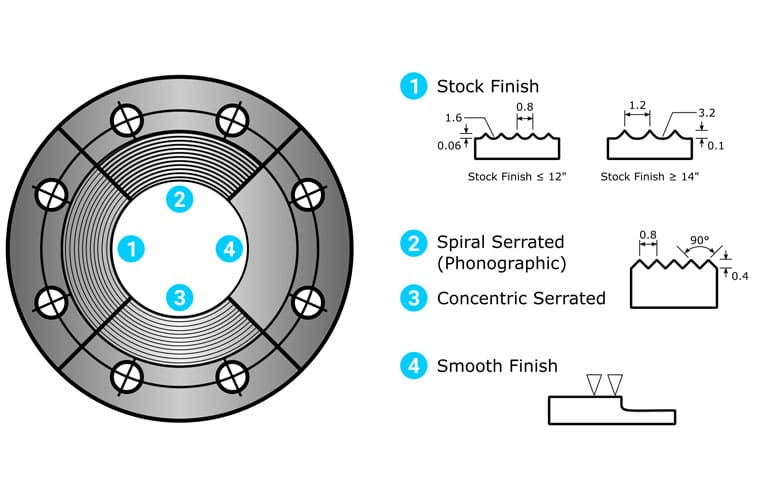 7. A105 Material Chemical Composition
Element

Composition %, Note C

Carbon

.35 max

Manganese

.60-1.05

Phosphorus

.035 max

Sulfur

.040 max

Silicon

.10-35

Copper

.40 max, note A

Nickel

.40 max, note A

Chromium

.30 max, note A,B

Molybdenum

.12 max, note A,B

Vanadium

.08 max, note A

Note A – The sum of copper, nickel, chromium, molybdenum and vanadium shall not exceed 1.00%
Note B – The sum of chromium and molybdenum shall not exceed .32%
Note C – for each reduction of 0.01% below the specified carbon maximum (.35%), an increase of .06% manganese above the specified maximum (1.05%) will be permitted up to a maximum of 1.65%
8. ASTM A105 Flanges Mechanical Properties
Tensile

70 ksi, min

Yield, note A

36 ksi, min

Elongation in 2in, Basic minimum for wall 5/16″ and over, strip test

30%

Hardness

187 HBW max

Note A – Determined by either the 0.2% offset method or the 0.5% extension-under-load method. Other test methods available as listed in A105.
9. Steel Pipe Flange Supply Range
We are manufacturers, suppliers and exporters of Carbon Steel A105 / A105N Flanges.
Range of Sizes: 1/2" to 40", DN10 to DN3000 of steel flanges
Range of Thickness: SCH5 to SCH160 of steel flanges
Pressure range: Class 150, Class 300, Class 600, Class 900, Class 1500, Class 2500, from PN 0.6Mpa to PN 42Mpa
Type of Ends: Rased Face – RTJ – Flat Face
Check our latest products