Butt Weld Fittings / Steel Fittings
Butt welding is the most preferred method to join pipe connections. Advantages of utilizing Butt Weld fittings are lower cost, less maintenance and they are stronger than threaded joints.
Welded connection offers a more robust connection
Continuous metal structure adds to the strength of the piping system
Buttweld fittings with matching pipe schedules offer seamless flow inside the pipe.
Option of various turn radius using Short Radius (SR), Long Radius (LR), or 3R Elbows
Cost-effective compared to their expensive threaded or socket weld counterparts.
Stainless Steel Welded Fittings are also available in SCH 10, allowing a thinner wall option.
Stainless Steel Butt Weld Fittings are more common in SCH 10 and SCH 40 configurations.
A butt weld fittings are weldable pipe fitting that can change flow direction, branch off, reduce size or connect auxiliary equipment. Buttweld fittings are available in multiple shapes (elbows, tees, reducers, crosses, caps, stub ends) These fittings are the most common type of welded pipe fittings and are specified by nominal pipe size and pipe schedule.
Butt weld Elbows change the pathway of a pipeline.
Butt weld Reducers reduce/increase the pipe bore size.
Butt weld tee or cross branch a pipeline and butt weld cap blind a pipeline.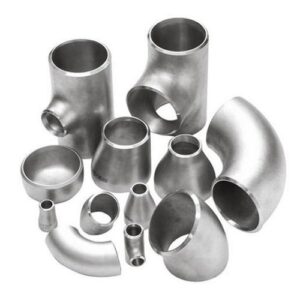 1/2″~48″
Larger sizes available on request.
Butt Weld Fittings Wall Thickness
Schedule 5S, 10S, 20S, S10, S20, S30, STD, 40S, S40, S60, XS, 80S, S80, S100, S120, S140, S160, XXS and etc.
Special Wall Sizes are available.
Manufacturing Standards of Welded Fittings
| | |
| --- | --- |
| Standard | Grade |
| ASME: | ANSI B16.9, ANSI B16.28, MSS-SP-43 |
| DIN: | DIN2605, DIN2615, DIN2616, DIN2617, DIN28011 |
| EN: | EN10253-1, EN10253-2 |
| JIS | JIS B2312, JIS B2313 |
| ASTM A403 – ASME SA403 | Standard Specification for Wrought Austenitic Stainless Steel Piping Fittings |
| ASME B16.9 | Factory-Made Wrought Fittings Buttwelding |
| ASME B16.25 | Buttwelding Ends |
| ASME B16.28 | Wrought Steel Short Radius Elbows and Buttwelding Returns |
| MSS SP-43 | Wrought and Fabricated Butt-Welding Fittings for Low Pressure, Corrosion Resistant Applications |
45°, 90°, and 180° Elbows (Other degrees available on request)
Straight Tees and Laterals 
Reducing Tees and Elbows
Concentric and Eccentric Reducers
Caps and Stub Ends
Crosses and Bends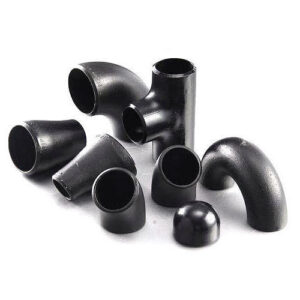 Elbow: according to the center to face distance, the elbow is divided into long radius elbow and short radius elbow; according to elbow degrees, it can be divided into 45, 90, and 180 degrees elbow.
Tee: according to the size of the diameter, the tee is divided into equal diameter tee, reducing tee, and lateral tee.
Reducer: reducer usually has a concentric reducer and an eccentric reducer.
Cap: the cap is usually divided into a flat cap and a standard oval cap.
Cross: A Butt weld cross fitting is used when a double branch at 90 degrees is required, which is a rather rare need.
Bend: Bends are made from straight pipe. Common bending radii are 3 and 5 times the pipe size.
Stub End: These are used when piping is made of a costly material such as stainless steel. Thick flange slips on this stub end. The flange can be made of a cheaper material like carbon steel.
Typical materials for butt welding fittings
ASTM A234 Gr. WPB: Carbon Steel for Intermediate Temperature: -30 deg. C to 430 deg. C: Piping Fittings of Wrought Carbon Steel and Alloy Steel for Moderate and High-Temperature Service.
ASTM A234 Gr. WP11,WP12, WP22 :430 deg. C to 630 deg. C: Alloy Steel for elevated temperature.
Elevated Temperatures Stainless Steel: 630 deg. C to 815 deg. C: Materia Used is: A403 WP304H, 316H, 327H, 312.
A815 UNS S31803: Duplex Stainless Steel :
Cryogenic Temperatures Stainless Steel: -100 deg. C to -250 deg. C: A403 Gr. 304, 304L, 316, 316L etc.
Low Temperature Carbon Steel : -30 deg. C to -100 deg. C: ASTM A420 WPL6
How to Order Butt Weld Fittings?
Types:
45 Degree Elbow, 90 Degree Elbow, Equal Tee, Reducing Tee, Cap, Reducers, etc.
Material :
CS : ASTM A234 Gr. WPB
SS: ASTM A403 Gr. WP304L, ASTM A403 Gr. WP316L-S
Construction:
CS: Seamless up to 24″. Welded above 24″.
SS: Seamless up to 6″. Welded above 6″.
Ends :
Butt Weld Ends
Heat Treatment :
Yes for Welded Tees
Thickness :
As per matching pipe thickness
Dimensional Standard :
Like ASME B16.9
Socket weld fitting end shall be square cut, well, the end of the butt weld fittings should be beveled.
The socket weld Fittings usually resist around half the strength of butt weld fittings. Butt weld fittings have been found to be the best in terms of fatigue, strength, compliance with temperature, and resistance to corrosion.
Socket weld fittings are quite easy to install, butt weld fittings could be difficult to weld and fit up properly.
Socket weld fittings, the price is much higher than butt weld fittings with a similar size. However, the extra cost with butt weld fittings is higher for installation than socket weld fittings.
Check our latest products