🔍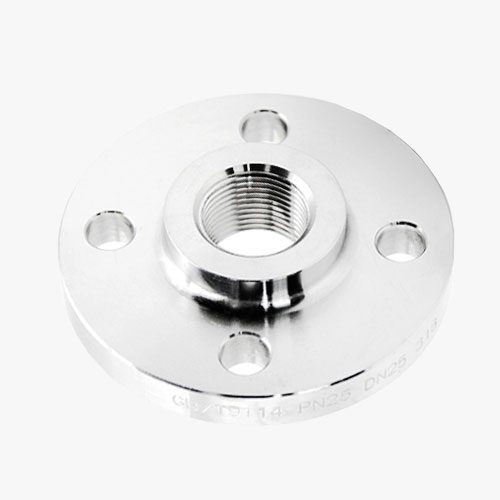 Threaded Flange ASME B16.5
Dimension : NPS 1/2″~24″ (15NB-600NB)
Material : Carbon Steel, Stainless Steel, Duplex Steel, Alloy Steel etc.
Standards : ANSI/ASME, BS, DIN, EN, JIS, GOST, ISO, API, SANS/SABS, etc
Flange face type: RF (Raised Face), RTJ (Ring Type Joint)
Certificates : CE-PED 2014/68/EU / ISO 9001 / MTC EN10204 3.1/3.2
Supply Ability : 100 Tons per Month
Non-Standard type: As per the drawing
Payment Term : L/C, T/T
Packing : Export standard Plywood Pallets/ free fumigation wooden case.
Description
ASME B16.5 Threaded Flange, THRF Flange, Screwed Flange, JIS B2220 Threaded Flange Flange, EN1092-1 Threaded Flange, DIN Threaded Flange, BS 4504 Threaded Flange
Threaded flanges can be connected to pipes without welding. It can be equipped with a tapered thread (screw) in the flange hole, which is installed on the pipe with the corresponding external thread. The thread of the hole matches the external thread on the pipe. In some cases,  a seal weld is also applied in conjunction with a threaded pipe flange.
As a premium Manufacturer & Exporter in China, Estan pipe fittings offers a variety of industrial pipe flanges to satisfy your specific requirements, which include weld neck flange, slip-on flange, threaded flange, socket weld flange, lap joint flange, blind flange, spectacle blank flange, orifice flange and so on. Our products are made in accordance with ISO 9001-2015, Pressure Equipment Directive 2014/68/EU (PED 2014/68/EU), AD2000 Merkblatt W0, and API standards.
Threaded Flange Specification  
Size
NPS 1/2″~24″ (15NB-600NB)
Pressure
ASME/ANSI Series: Class 150, Class 300, Class 400, Class 600, Class 900, Class 1500, Class 2500
EN Series: PN 2.5, PN 6, PN 10, PN 16, PN 25, PN 40, PN 63, PN 100, PN 160, PN 250, PN 320, PN 400
BS Series: PN 2.5, PN 6, PN 10, PN 16, PN 25, PN 40
DIN Series: PN 6, PN 10, PN 16, PN 25, PN 40
GOST Series: PN 6, PN 10, PN 16, PN 25, PN 40
BS Tabled Series: Table D/E/F/H
JIS Series: 2K, 5K, 10K, 16K, 20K, 30K, 40K, 63K
SANS/SABS Series: 600Kpa, 1000Kpa, 1600Kpa, 2500Kpa, 4000Kpa
Flange Face Type
American Series: Flat Face(FF), Raised Face(RF), Tongue(T), Groove(G), Female(F), Male(M), Ring Joints Face(RJ)
European Series: Type A(Flat Face), Type B(Raised Face), Type C(Tongue), Type D(Groove), Type E(Spigot), Type F(Recess), Type G(O-Ring Spigot), Type H (O-Ring Groove)
Standards
ASME B16.5 Flanges
EN 1092-1 Flange
BS 4504 Flange, BS TABLE D/E/F/H Flanges
JIS B2220 Flange
DIN 2558, DIN 2561, DIN 2565, DIN 2566, DIN 2567, DIN 2568, DIN 2569
MSS SP-44 Flanges
GB/T 9112-2010, GB/T 9115-2010, GB/T 13402-2010
HG/T 20592-2009, HG/T 20615-2009, HG/T 20623-2009
SANS1123 Flanges, SABS 1123 Flanges
ISO 7005-1 Flange
Coating/Surface Treatment
Antirust Paint, Oil Black Paint, Yellow Transparent, Zinc Plated, Cold and Hot Dip Galvanized
Value-Added Services
CNC Machining, Customised Flanges
Threaded Flange Material Type & Grade
Stainless Steel Threaded Flanges: ASTM A 182, A 240 F 304, 304L, 304H, 316, 316L, 316Ti, 310, 310S, 321, 321H, 317, 347, 347H, 904L
Carbon Steel Threaded Flanges: ASTM / ASME A/SA 105, ASTM / ASME A 350, ASTM A 181 LF 2 / A516 Gr.70, A36, A694 F42, F46, F52, F60, F65, F70
Alloy Steel Threaded Flanges: ASTM / ASME A/SA 182 & A 387 F1, F5, F9, F11, F12, F22, F91
Duplex & Super Duplex Steel Threaded Flanges: ASTM / ASME A/SA 182 F 44, F 45, F51, F 53, F 55, F 60, F 61
Low-Temperature Carbon Steel Threaded Flanges: ASTM A350, LF2, LF3
Copper Alloy Steel Threaded Flanges: UNS No. C 70600 (Cu-Ni 90/10), C 71500 (Cu-Ni 70/30), UNS No. C 10100, 10200, 10300, 10800, 12000, 12200
Nickel Alloy Long Threaded Flanges: Nickel 200 (UNS No. N02200), Nickel 201 (UNS No. N02201), Monel 400 (UNS No. N04400), Monel 500 (UNS No. N05500), Inconel 800 (UNS No. N08800), Inconel 825 (UNS No. N08825), Inconel 600 (UNS No. N06600), Inconel 625 (UNS No. N06625), Inconel 601 (UNS No. N06601), Hastelloy C 276 (UNS No. N10276), Alloy 20 (UNS No. N08020), Titanium Gr I/II
Available Certificates
Manufacturer Test Certificate as per EN 10204 3.1, Third-Party Inspection Report as per EN 10204 3.2, Non-destructive Testing / NDT Report
Applications:
1. Oil and gas industry
2. Petrochemical industry
3. Power generation industry
4. Pharmaceutical industry
5. Shipbuilding industry
6. Papermaking industry
7. Metallurgy industry