Guide to Steel Pipe Union
The steel pipe union is a common pipe connector that can be easily installed and disassembled. They are widely demanded in the pipe fitting market. You can get more info. from the following 9 parts.
1.What is a Steel Pipe Union?
Steel Pipe Union is a type of fitting equipment designed in such a way to unite two pipes that can be detached without causing any deformation to the pipes.
Pipe Unions are made in three parts: a female end, a male end, and a nut. The nut provides the necessary pressure to seal the joint when the male and female ends are brought together.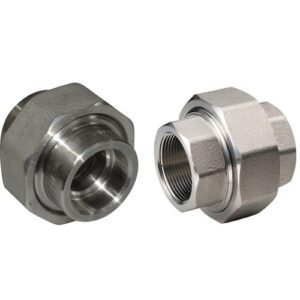 2. Steel Pipe Union Specification
MSS SP 83 is the specification for pipe union which covers size tolerance, marking, and material in carbon steel, alloy & stainless steel.
Standard: ASME/ANSI B16.11, BS3799, MSS-SP-83
Diameter Range: 1/8″, 1/4″, 3/8″, 1/2″, 3/4″, 1″, 1 1/4″, 1 1/2″, 2″, 2 1/2″, 3″,4"
Type: Socket Weld Union and Threaded Union.
For Use With Air, Hydraulic Fluid, Natural Gas, Oil, Steam, Water.

3. Steel Pipe Union Types
Basic types of pipe unions: Ground joint union and flange union. The difference between the two is that the former consists of three pieces while the latter two pieces.
Classified by connection form: Socket weld union and threaded union.
Socket weld type is to insert a steel pipe into a socket for welding. Therefore, it is called a "socket weld union".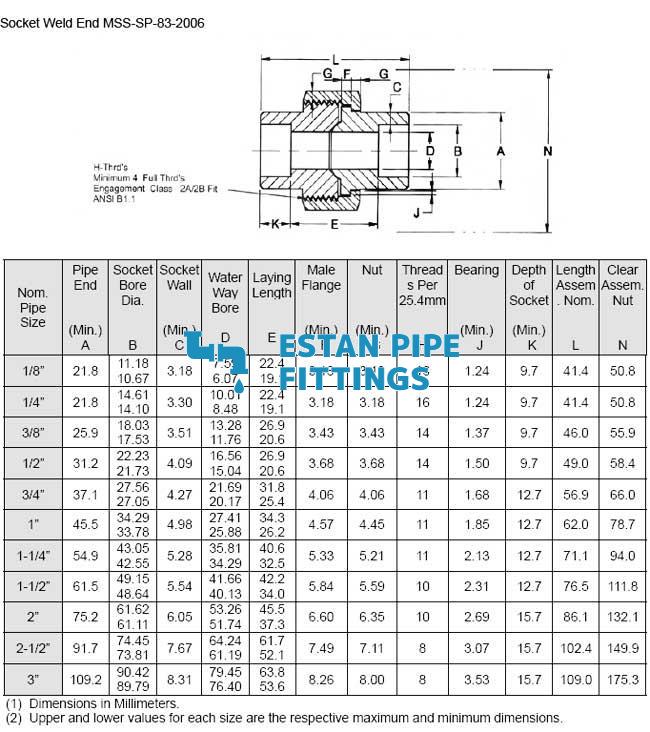 The threaded connection is to screw a steel pipe into a screw hole for connection. Therefore, it is called "threaded union". 
Steel union fitting can be divided into socket weld and thread type, according to the thread(screw) type, there are NPT union and BSP union.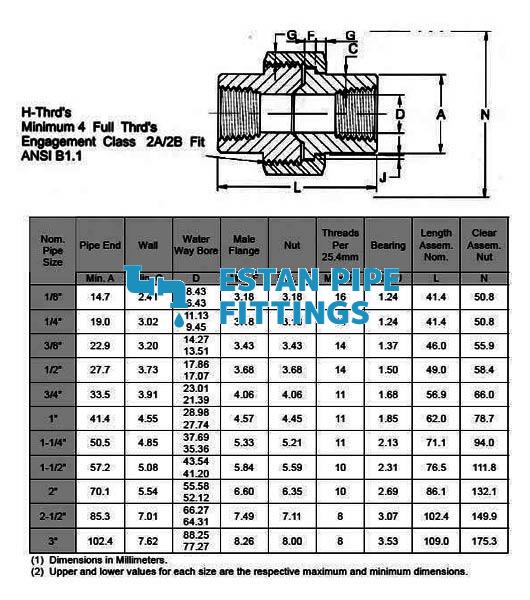 4. Steel Pipe Union materials
Carbon Steel Pipe Union 
ASTM A105, A694 F52, F60, F65, F70, A350 LF2, LF3
Stainless Steel Pipe Union
ASTM A182 F304/304L/F304H, F316/316L, F310, F317, F321, F309
Duplex Steel Pipe Union
ASTM A182 F51, F53, F55, S 31803, S 32205, S 32550, S 32750, S 32760
Alloy Steel Pipe Union
ASTM A182 F1, F5, F9, F11, F12, F22, F91

5. Steel Pipe Union Advantages
There are various advantages of pipe unions like:
To provide a leak-proof disconnection point in any piping system.
Used for inserting metering and regulating devices into any plumbing application.
Can connect the piping system to vessels.
Can join two pipes of a different sizes together.
Can easily remove the join between two pipes.
Easy to install.
Economical.
6. Steel Pipe Union Applications
Steel Pipe unions are used in various municipal and industrial applications as follows:
Fire protection
Process piping system
Water and wastewater etc.
Chemical industries such as pulp and paper mills.
    Important features that buyers should look for:
Type
Standard
Material
Size
Durability
Easy to install
Corrosion resistance
8. Package of Steel Pipe Union
Marked Socket Weld Union and Threaded Union with Size, Pressure, Grade, Standard, and Heat No.
All steel union fittings are surfaced with oil before packing.
Sleeved forged steel pipe union fittings into plastic bags individually.
Packed them in cartons and wooden cases, then bundled packages with nylon rope.
Clear labels are tagged on the outside of the package for easy identification of the quantity and product. Great care is taken during operation and transportation.
9. Where to Buy Steel Pipe Union?
Estan pipe fittings is a quality steel pipe union manufacturer, supplier, factory, exporter, and wholesaler. With a large supply range, high quality, and fast delivery, our products have been shipped to more than 20 countries and received their acceptance. They are commonly used in various industries like engineering, petroleum, and chemical industry.
Some points for buyers:
Steel pipe unions can be customized according to drawings, samples, or customer special requirements.
Samples can be sent to customers free of charge.

Check our latest products