Steel Lateral Tee Manufacturer, ASME B16.9 Butt weld Lateral Tee Supplier, ASME B16.11 Socket Weld Lateral Tee & Threaded Lateral Tee Exporter, MSS-SP97 Latrolet Branch Fittings Manufacturer. Our lateral tee pipe fittings are available in all sizes and schedules.
1. What is a Lateral Tee?
A Lateral Tee is one tee pipe fittings, which is similar to a tee but has a side opening outlet branch at a 45 degree angle. It is designed to provide 45 degree or other degrees branches for the main pipe. Its connection type could be butt weld, socket weld, and threaded.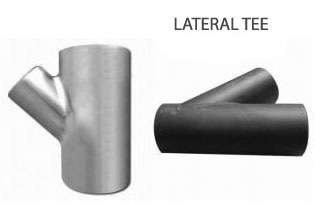 2. Steel Lateral Tee Types
Like we said above, Lateral Tee connection type could be butt weld, socket weld, and threaded. And accordingly, butt weld lateral tee is manufactured based on ASME B16.9, while the socket weld lateral tee and threaded lateral tee are confirmed to ASME B16.11. To summarize, It is a special type of pipe tee.
2.1 Butt Weld Lateral Tee
Lateral tee typically provides sleek flow ways and there's no turbulence or entrapment.
Used for waste, installation.
Used for drain pipe, water, gas, oil, etc.
Lateral tees are accustomed to offering high integrity mechanical connections in various pumps applications.
Used for positive pressure, and vacuum applications.
Used in radical high purity systems.
Butt Weld Lateral Tee Dimensions
Diameter Range: NPS 1/2″ – 48″ / DN15 – 1200
Wall Thickness: Sch10S, 20, 40, STD, XS, 80, 100, 120, 140, 160, XXS
Standard: ASME B16.9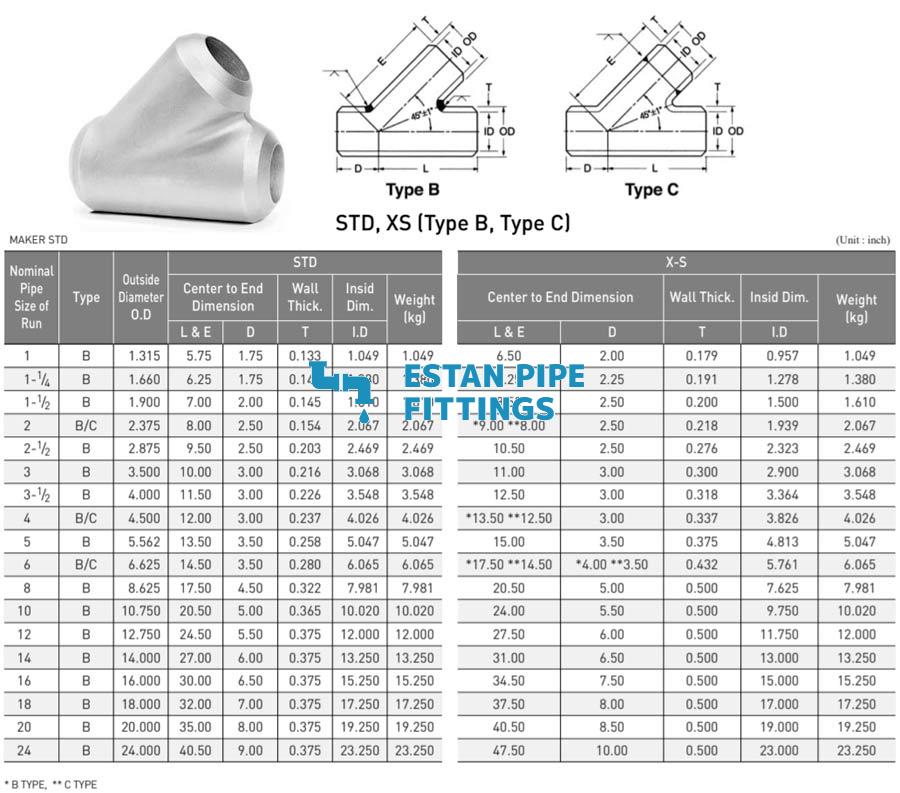 2.2 Socket Weld Lateral Tee
Forged Socket Weld Fittings 45 degree Lateral Tee standards according to ASME B16.11 / BS3799. It is designed for wide use in different industries like oil refineries, chemical processing, petrochemical and many other industries.
Socket Weld Lateral Tee Dimensions
Size: 1/8″~4″
Class: 3000LB, 6000LB, etc.
Standards:ASME 16.11
Material: Carbon Steel, Stainless Steel, Duplex Steel, Alloy Steel.
Like Socket Weld fittings, threaded lateral tee fittings are mainly used for small pipe diameters (Small Bore Piping); generally for piping whose nominal diameter is NPS 2 or smaller. You can see it from the below dimension image.
Threaded Lateral Tee Dimensions
Size: 1/8″~4″
Class: 2000LB, 3000LB, etc.
Standards:ASME 16.11
Material: Carbon Steel, Stainless Steel, Duplex Steel, Alloy Steel
3. Common Uesd Materials of ASME B16.9 Lateral
Carbon Steel Lateral Tee

ASTM A234 WPB Lateral Tee Fitting
ASTM A420 WPL6 Lateral Tee B16.9
WPHY 42 Lateral Tee
WPHY 52 Lateral Tee Stainless Steel
WPHY 56 Lateral Tee Fitting
WPHY 60 45 Lateral Tee
WPHY 65 Bw Lateral Tee
WPHY 70 Lateral Cross Tee

Stainless Steel Lateral Tee Fitting

ASTM A403 WP304 Lateral Tee B16.9
ASTM A403 WP304L Lateral Cross Tee
ASTM A403 WP316 45 Lateral Tee
ASTM A403 WP316L Lateral Tee B16.9
ASTM A403 WP317 Lateral Cross Tee
ASTM A403 WP317L Lateral Tee Fitting
ASTM A403 WP321 Lateral Tee B16.9
ASTM A403 WP321H Lateral Tee Stainless Steel
ASTM A403 WP347 Lateral Tee
ASTM A403 WP347H Bw Lateral Tee

Alloy Steel Lateral Tee B16.9

ASTM A234 WP5 Lateral Tee Stainless Steel
ASTM A234 WP9 45 Lateral Tee
ASTM A234 WP11 Lateral Tee B16.9
ASTM A234 WP22 Lateral Cross Tee
ASTM A234 WP91 Lateral Tee B16.9
4. Latrolet- another Lateral Fitting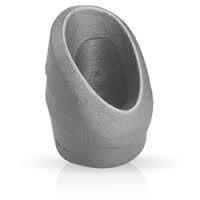 Check our latest products