A swage nipple is a reducing pipe nipple, used to connect two different sized fittings. In piping systems, Swage Nipples are also referred to as Swages, Pipe Swages, Swadge Nipples, or Reducing Nipples.
1. Swage Nipples Specification
| | |
| --- | --- |
| Size | 1/8" to 8", DN8 to DN200 |
| Type | Concentric Swage Nipple, Eccentric Swage Nipple |
| Dimensions | MSS SP 95, BS 3799 |
| Raw Materials | A106 Gr. B, A105/A105N, A182 304/304L, A182 316/316L, A312 304/304L, A312 316/316L, A350-LF2, etc. |
| Material Specifications | ASTM A105, A350 LF2, ASTM A182 (F304, F304L, F316, F316L, F304H, F316H, F317L, F321, F11, F22, F91) |
| Material Finish | Electro-Galvanized Coating, Black Finish, Blackodising Finish, Sand Blasting, or Pickled Finish in case of Stainless Steel Swage Nipples |
2. Concentric swage nipple & Eccentric swage nipple
The function of the swage nipple is to change the pipe's diameter and to connect two pipes of different sizes. The swage nipple is divided into concentric swage nipple and eccentric swage nipple.
Concentric swage nipple is mainly used for the vertical pipeline
Eccentric swage nipple is mainly used in the horizontal pipeline.
3. Swage Nipple Dimensions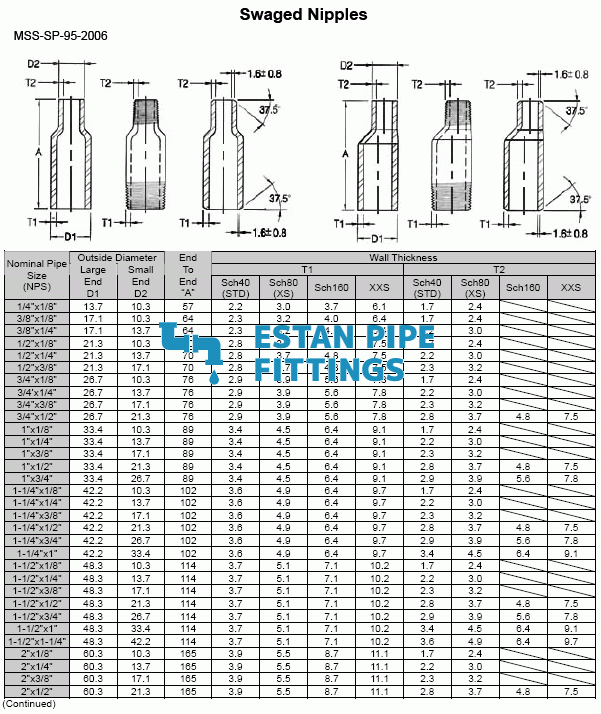 Standard: BS3799, MSS SP-95
Size: 1/4 to 12 inch / DN8-DN300
Thickness: Sch 10s, Sch 20, STD, Sch 40, XS, Sch 80
Form: Concentric Swage Nipple and Eccentric Swage Nipple
Connection ends of swage nipples can be divided into beveled ends, plain ends and threaded ends three kinds, and two ends of swage nipples can be the same or different based on the requirements of sites or designs.

PBE: Plain Both Ends, BBE: Bevel Both Ends, TBE: Thread Both Ends
PSE: Plain Small Ends, BSE: Bevel Small Ends, TSE: Thread Small Ends
PLE: Plain Large Ends, BLE: Bevel Large Ends, TLE: Thread Large Ends
      Threaded End (NPT,BSP & BSPT)
5. ASTM A106 / A106B Swage Nipple
A106 – The standard most common used specification for carbon steel pipe where piping must transport fluids and gases that exhibit high temperatures and pressure levels.
ASTM A106 / A106B Swage Nipple is a short piece of carbon steel pipe which commonly used to connect two pipes or tubes or other fittings. It plays a role in changing the way of connection. ASTM A106B is a very common material grade for carbon steel pipe nipples.
The working pressure of pipe nipples will vary with the size and construction of the pipe, the type and number of clamps used, clamp placement, proper installation of clamps, temperature, and the product being conveyed.
Estan pipe fittings supply high-quality concentric reducer, eccentric reducer, concentric swage nipple, and eccentric swage nipple with carbon steel/stainless steel/alloy steel. Our swage nipples are tested and verified for durability, accuracy, and precision.
7. A little tips for purchasing Swage Nipple
 When selecting the swage nipple, you should mark the end types, also NPT or R for taper pipe threads.
Big ends and small ends of swage nipples can be divided into plain ends, beveled ends, and threaded ends three kinds, so there will have nine combinations of big and small ends.
Wall thicknesses of swage nipples are generally Sch80 (3000LB) or Sch160 (6000LB).
Check our latest products